(01.04.2015)

IBM General Price Harmonization
Effective July 1 2015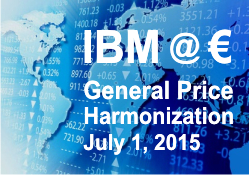 Effective July 1, 2015, IBM® is announcing a worldwide price harmonization across the software product portfolio.

Passport Advantage® Express Suggested Retail Prices (SRP) and Passport Advantage Suggested Volume Prices (SVP), as applicable, for the following categories of products, are included in this announcement:
Passport Advantage Eligible Products from the Business Analytics, Cloud and Smarter Infrastructure, Collaboration Solutions, Enterprise Content Management, Industry Solutions, Information Management, Rational®, Security Systems, and WebSphere® Brands.
Media and documentation packs associated with the Passport Advantage Eligible Products.
Selected other non-Passport Advantage Products
For most products, the following price harmonization changes will apply:
Leolo Data2015 Mastermind Conference
Is Coming Again This Summer, July 8-11
Four days of visionary speakers, presentations and discussions that will supercharge your knowledge about data trends and challenges.
Plus an exciting side program of outdoor activities and fine dining with the experts. Reserve your seats!
We are now more than fired up to present what will hopefully be even bigger and better: The Data2015 Mastermind Conference 2.0 in Tyrol, Austria, packed with lectures, talks, meet'n greats - and golf and hiking events.