Informix Online Workshops save time and money
As a full-service distributor for IBM databases, we not only supply software, but also pass on the specialist knowledge for successful use to our customers. We usually conduct training courses and workshops in our own seminar rooms or directly at the customer's location:
Individual selection and preparation of topics
Training directly at the workplace of your employees
Tailored to your scheduling and working time planning
Didactically meaningful units of 90 minutes
Especially suitable for small groups
No training room necessary
No travel time
No travel costs
An example:
An Informix basic and advanced training course was needed for a team of developers and administrators. Taking into account the different prerequisites and tasks of the eight participants, the schedule had to be planned in such a way that the team could take part in the training throughout. Not a simple requirement for a training of several days, especially if the operative tasks only allow a temporary release of the employees.

After we had had several good experiences with short online workshops last year, our suggestion was to spread the training over several dates and to conduct it as a online seminar. Technical contents were clarified and the topics were divided into didactically meaningful teaching units. The seminar was then conducted in four units - flexibly according to the customer's schedule - spread over two weeks.

As a seminar, the first two units dealt with Informix basics, configuration, administration and tuning of the database system. The following units were specifically aimed at application development. In addition to new database properties, the possibilities for optimizing SQL applications were presented. The teaching style changed towards a workshop with questions and a direct reference to the customer's development environment.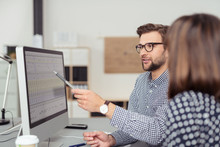 The participants were extremely satisfied with this type of seminar execution both technically and methodically - customer quotes:
"The training was very well received by the participants and the professional competence was expressly praised."
"The type of online seminar and the division into 4 dates were correct. We should consider this again for future training courses".

(reference contact on request)
---
---