Informix products lifecycle (EOS)
Here you find the actual subversion to each main version. You see when the EOS (End-of-Support) of the respective main version is pronounced. Anytime a new Informix-Version is provided on IBM Fix-Central this table will be actualized immediately. If you want to be informed by us when a new version is provided by the IBM please subscribe to our Release Info Newsletter. This newsletter is exclusively used to inform about the publication of new releases. Here you can see the previously posted newsletters.
Also versions that are no longer available on IBM Fix-Central can be found in our download-area. If you should need even older versions, just ask us. We still have many old and very old versions in our archive.
Overview Informix Server
Current version
Published
EOS
14.10.xC10
19.07.2023
12.10.xC16
24.08.2023
11.70.xC9
28.04.2017
30.09.2020
11.50.xC9
12.08.2011
30.04.2018
11.10.xC3
26.11.2009
30.09.2012
10.0.xC11
02.04.2010
30.09.2010
9.40.xC9
26.11.2009
30.04.2009
7.31.xC5
26.11.2009
30.09.2010
Overview Informix Client-SDK
| Current version | Published | EOS |
| --- | --- | --- |
| 4.50.xC10 | 26.09.2023 | |
| 4.10.xC16 | 22.08.2023 | |
| 3.70.xC9 | 28.04.2017 | 30.09.2020 |
| 3.50.xC9 | 16.08.2011 | 30.04.2018 |
| 3.0.xC3 | 09.12.2009 | 30.04.2018 |
| 2.90.xC6 | 09.12.2009 | 30.04.2011 |
---
View extended lifecycle tables for Informix here!
Call up our extended lifecycle tables, here you will find almost all versions across the product family!
1.) Select the product you are looking for from the list.
2.) A tooltip gives you a preview of the available lifecycle information.
3.) Click on the product name, the detailed information will be displayed.
General Availability (GA), the date from which a version/release of the product is available to all users, regardless of language or medium.
End of Marketing (EOM), the date when a part number is no longer active and cannot be ordered anymore via the standard price lists.
End of Support (EOS), the date on which IBM discontinues standard support services for a particular version or release of a Product.
For many products you can follow the references directly to the IBM Announcements!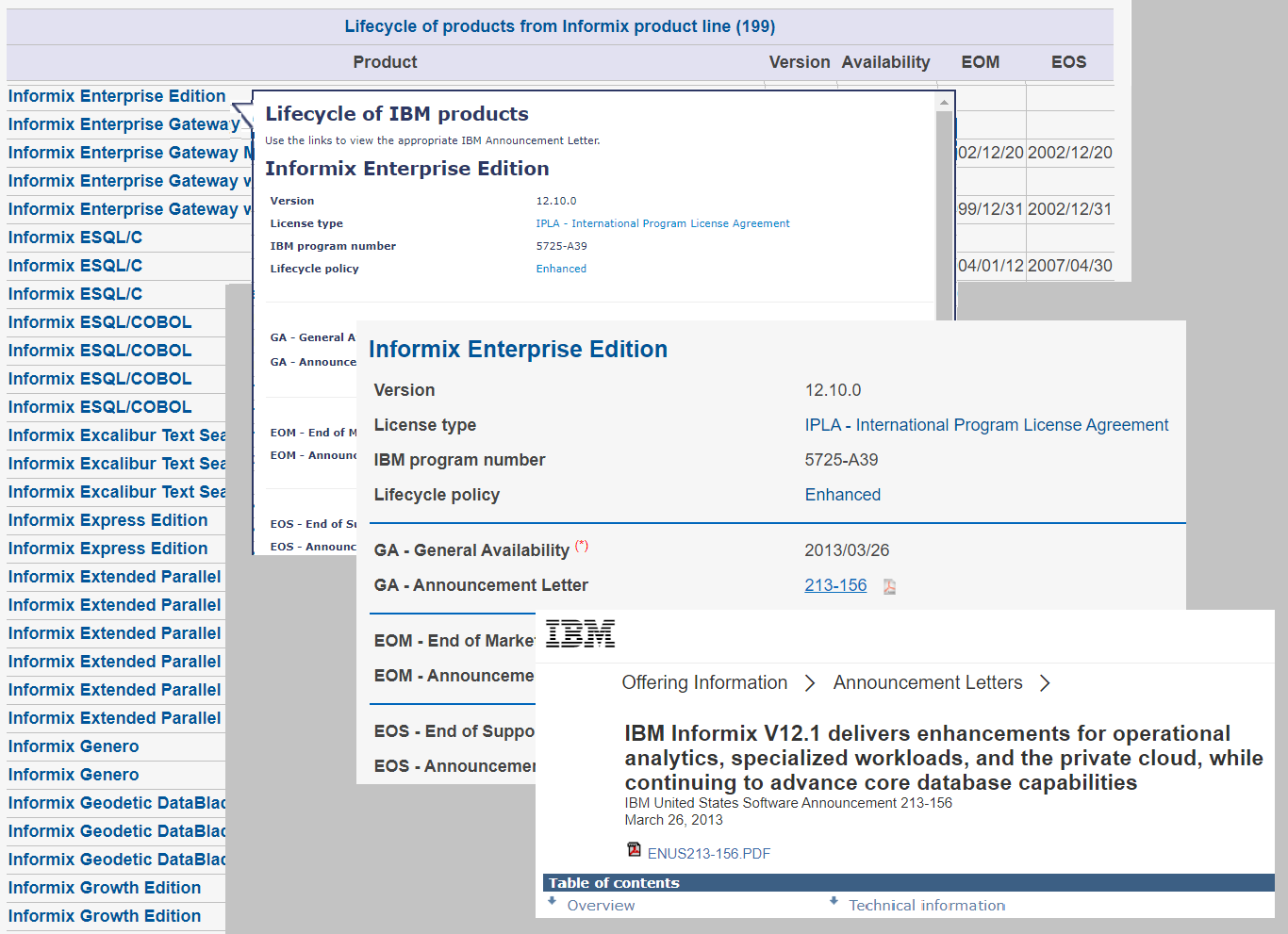 ---