IBM Informix on Cloud:
speed innovation and save costs
(IBM Announcement ENUSZP16-0499 - 27.09.2016)
IBM Informix on Cloud gives you the ability to speed innovation and save costs by choosing a cloud deployment for your workloads
At a glance
IBM Informix on Cloud delivers all of the capabilities of the Informix Advanced Enterprise server deployed in on-premises configurations but without the time and expense of a hardware purchase, system administration, and management. The cloud-delivered Informix server will be configured for OLTP workloads and also includes entitlement to Informix Warehouse Accelerator (IWA) that delivers incredible query acceleration through columnar, compressed, in-memory technology.
Provides database as a service on the IBM SoftLayer global cloud infrastructure
Comes with an OLTP preconfigured instance
Includes IBM Informix Warehouse Accelerator entitlement
Supports cloud deployments of applications that will need JSON/BSON and SQL apps simultaneously in the same database, in the same queries
Allows for faster deployment of innovative cloud applications due to REST interface and MQTT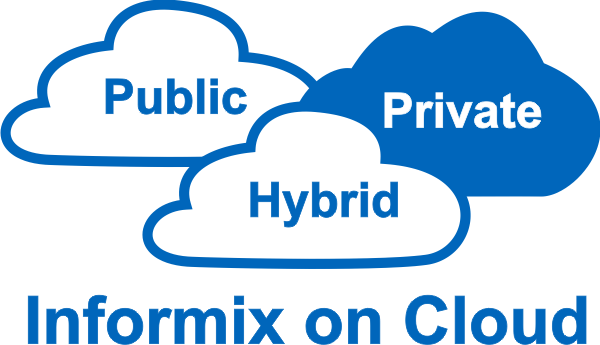 Description
IBM Informix Advanced Enterprise on Cloud offers the powerful feature set of Informix on-premises deployments without the cost, complexity, and risk of managing your own infrastructure.
Based on the Informix Advanced Enterprise edition, Informix on Cloud comes with a preconfigured instance configured for OLTP with storage optimization enabled and includes licensing for the Informix Warehouse Accelerator (IWA).
SPSS and Cognos are not included but are available as services on IBM Bluemix® that can be utilized with the Informix on Cloud offering.
Use of this offering reduces the time required for provisioning and deploying Informix so that application programming resources can focus on developing new solutions and innovation and database administrators retain full administrative control of their database environment.
Informix on Cloud includes the following optional services:
IBM Informix on Cloud Jump Start Remotely Delivered Setup
IBM Informix on Cloud Accelerator Remotely Delivered Setup
These setup services deliver 50 hours of remote consulting time so that organizations get expert guidance with setup activities and quickly get productive use of one or more software as a service (SaaS) offerings. Organizations can easily obtain expert assistance to become operational at the time of SaaS signup.
Overview
Informix on Cloud gives you the ability to speed innovation and save costs by choosing a cloud deployment for your workloads without compromising on enterprise-level security, performance, and your need for a robust and proven technology choice
Informix on Cloud gives you all of the feature-rich capabilities of an Informix on-premises deployment while also reducing the time for provisioning and deployment. The Informix server will be configured for OLTP workloads, but also includes the Informix Workload Accelerator (IWA) that enables you to configure and take advantage of query acceleration for predictive analytics.
Informix incorporates design concepts that are uniquely suited to the challenges faced in the internet of things on the edge and in the cloud, resulting in extremely high levels of performance and availability, distinctive capabilities in data replication and scalability, and no administrative overhead.
Integrates with IBM products such as MessageSight, Streams, SoftLayer, and so on
Offers hands-free administration
Offers specialized high-performance support for time series and spatial/GIS data
Continuously loads millions of records per second
Runs analytics orders of magnitude faster than other databases
Supports JSON/BSON and SQL apps simultaneously in the same database
Scales-out across multiple servers
Informix on Cloud complements the Informix IoT solution strategy by uniquely enabling fast data collection at home or around the world and positioning the data where it is needed.
Application developers will have fast access to relational, TimeSeries, and JSON collections with Informix on Cloud deployments through MQTT, REST API, MQTT API, Mongo APIs, and SQL API on their cloud deployments.
Key features and benefits of Informix on Cloud are:
Accelerates and simplifies deployment: Reduces costs and time required to take advantage of the high-performance Informix engine that integrates TimeSeries, Spatial, NoSQL, and SQL data.
Seamless integration of application data: Delivers high-performance operational and analytic processing across the boundaries of cloud environments and on-premises configurations.
Native encryption with all configurations. Secure your data at rest and in flight. DBMS servers sized to meet your business demands: S, M, L, and XL configurations.
Planned availability date September 27, 2016
| | | | |
| --- | --- | --- | --- |
| i16-09-27-IBM-Informix-on-Cloud-ENUSZP16-0499-2016-09 | 76.76 KB | 2016-09-27 | Download |